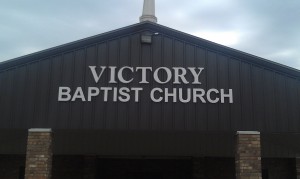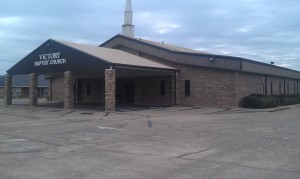 May 6, 1956 a small group of Christians met in the home of Leroy Jones for the purpose of forming a new church on the south side of Monroe. From that meeting Victory Baptist Church had her beginning. The church began with 30 charter members, and its first meeting was in the Plum Street School. Many of those members have gone on to be with the Lord; however, several are still active in the church today.
The first pastor was Bro. Pat Guice. In December of 1956, the church made the down payment on lots on South Tenth on which to erect a permanent meeting place. The first meeting in the new building was in July of 1957.
The church relocated to its present location on Finks Hideaway Road in 1990. Bro. Jimmy Yokum led the church during the relocation process. The south side property was sold and the money from that sell was used to buy the 11 acres on which the church sits today. A dedication for the first building on the new property was held August 5, 1990.
The dream of the original founders of Victory Baptist Church has become a reality. Many people have been born into the Kingdom of God as a result of the God's faithfulness to the ministry of Victory. Presently, the dream lives on in the lives of the members today. We want to continue to share the gospel in all that we do. Our mission is to take the good news of Jesus Christ to a lost and dying world, in hopes of being used by God to see men, women, and children repent of their sins and place their trust in Jesus Christ alone.